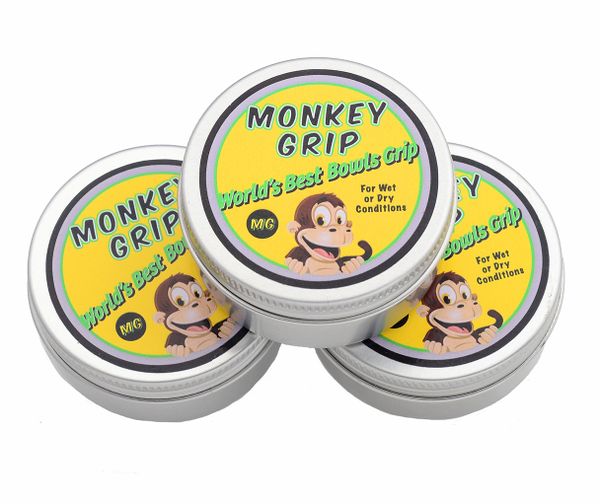 Monkey Grip Bowls Grip
A special Carnauba and Beeswax based wax that shines, cleans and gives one a phenomenal grip in wet or dry conditions, 100% money back guarantee. Grippier and lasts longer than competing tube products. Tens of thousands sold. Comes in tins of 50 grams. A little goes a long way. (Price is for one tin).

Here's how to use Monkey Grip on your bowls:
1) First clean your bowls with water (a mild dish washing soap is o.k.)
2) Place a small amount (finger nail size) of Monkey Grip on your bowl.
3) Spread it all around the bowl, especially on the running surface.
4) Before it dries, use a clean soft towel to polish the bowl. The longer you       polish, the shinier it gets.
Not only will your bowls look like new,  it will be easier to wipe off any mud, grass, chalk, or other substances your bowl may pick up on the green. I bowl in many tournaments and polish my bowls nearly every week. A tin of Monkey Grip should last at least six months or more.
*Carnuaba wax is the hardest natural wax known to man. It comes from a palm tree in Brazil. It repels water from the palm leaves and protects it against the tropical sun.
"

Hello Howard, 

Just letting you know. I'm impressed! 

The delivery of my order came within one day. 

When I use Monkey Grip, my bowls look brand new. 

Just like the advertising."  J.L. Laguna Beach, CA
Reviews